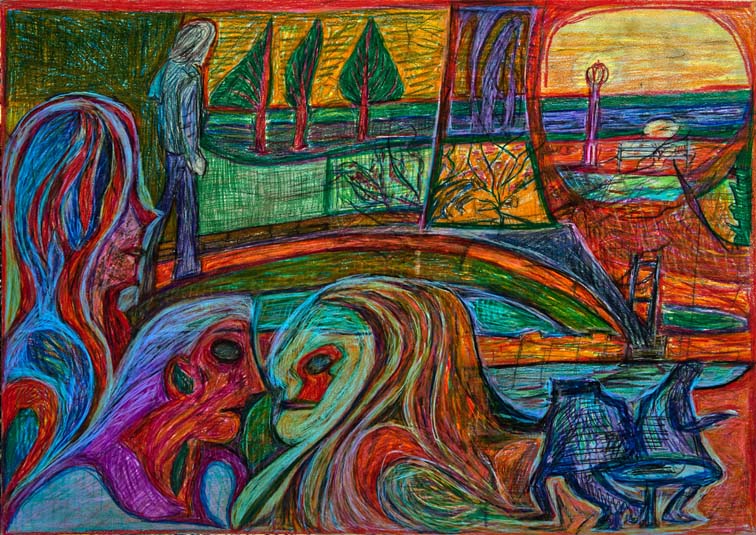 Ward van Grimbergen (b. 1972, Genk, Belgium) grew up in Diepenbeek as the son of an architect couple. In 1993, Ward moved to his current home in Antwerp to study at the Royal Academy of Fine Arts. Early on in his training as a sculptor, as he is developing his artistic talent, something else is developing inside of him: inner voices that are disapproving and suspicious. The festering sense of doom grows into a series of psychotic episodes, and the voices become Ward's constant companions. Nevertheless, he earns his master's degree with honours in 1999. His graduation project consists of assemblages of found objects and reused materials, and for years after leaving the Academy, Ward's work remains focused on large, composite sculptures, which he constructs in his Lovelingstraat studio.
Around 2007, after Ward gives up his studio on Lovelingstraat, the De Vinken Day Centre becomes his primary workplace. Here, Ward continues to build his assemblages and spends his time drawing and modelling. Initially, Ward draws from observation, but that changes in 2015 when he joins the Antwerp branch of the artists' collective OXOt—pronounced ook zot, or 'also crazy'—where he can also go on Sundays. Every Sunday afternoon, Ward produces a free, abstraction-derived A3-size pencil drawing, until he leaves OXOt again in 2019. These works, horror vacui in shades of grey with occasional touches of blue, are composed of hatching and swirling lines that occasionally condense into vortices that stare out of the paper like eyes. Heads, creatures and architectural elements also increasingly emerge in the swirl of lines. Little by little, the flat surface gives way to pictorial space, but figuration never takes over from abstraction.
In the large drawings Ward has been making at De Vinken since 2017, he continues the trend toward figuration begun at OXOt, but abstraction is no longer the starting point. These works in mixed media are assemblages of cinematic scenes, where changes of perspective and sometimes bright contrasting colours make the representations tilt and vibrate. As a result, like film, the drawings seem to possess a temporal dimension, although here, unlike in film, time has no direction.
In both his drawings and spatial works, Ward sees the creative process as a dance: a physical exploration of the abstract outside world, of which he creates an image that defines him as he works. The dance is thus at once a self-examination and a search for truth, for the body does not lie. Intertwined in this is Ward's fascination with the female as a symbol of the fundamentally "other", which lies irreconcilably beyond the realm of his own experience. An inevitable aspect of this creative dance is the leading role of voices. Doubts of perception prompt Ward, under the scrutiny of the voices, to explore reality, on paper or in matter. Once the voices fall silent, the dance is over and the work is finished.
Rudi Salomon, Antwerp 2023